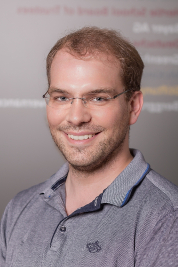 M.Sc. Lukas Barth
Wissenschaftlicher Mitarbeiter

Sprechstunden:

Donnerstag 14:00 - 15:00 und nach Vereinbarung

Raum:

306

Tel.:

+49 721 608-47329

Fax:

+49 721 608-44211

lukas barth∂ kit edu
Institut für Theoretische Informatik (ITI)
Lehrstuhl für Algorithmik I, Prof. Dr. Dorothea Wagner

Karlsruher Institut für Technologie
Am Fasanengarten 5,
Gebäude 50.34, Raum 306
76131 Karlsruhe

PGP-Key: 0x5238105F
Fingerprint: 7AAC 0D70 5552 F6BB 5C5C 086B 008C 860C 5238 105F
Research Abstract
I look into the idea of Demand Response / Demand Side Management in smart grids: in future (smart) energy grids, we will be faced with a rising share of non-dispatchable, i.e., non-controllable, generation. However, for the grid to be stable, supply must match demand; currently, this can by achieved by dispatching the generation accordingly; in the future, we will have to come up with different strategies.
One such strategy is to control parts of the demand side instead of the generation side: In industry and households, there are a variety of electrical demands which do not necessarily need to run at a specific time, but rather within a specific time frame. Aside from challenges regarding e.g. communications and control infrastructure, privacy issues or tariffing, for this approach to be successful we need algorithms able to schedule a huge amount of electrical demands. Finding such algorithms is what I am interested in.
The algorithms do not only have to be efficient, but must also be able to cope with a complex model to be relevant for realistic scenarios: Interdependencies between demands, interruptible and non-interruptible demands, machinery that can operate in several different modes with different demands etc. should all be encompassed by the model. At the same time, the use case for the algorithm might dictate very strict runtime constraints: If an algorithms is to be used to optimize for example trading energy on a spot market, near-instantaneous optimization is necessary. To achieve all this, I adapt results from the areas of machine scheduling as well as project scheduling.